Zoo Animal supplier "Rep JAPAN"
Import-Export Reptiles & Amphibians Wholesale "Rep Japan"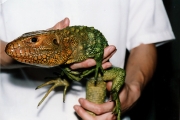 Rep JAPAN is leading importer of reptiles, amphibians and mammals for the japanese market.
We are interested in all types of animals from regular varieties to the rarest of species.
Our highest priority is quality : Rep JAPAN is only interested in animals in the finest condition.
Rep JAPAN invites breeders, brokers or shippers who are interested in Japan and the Japanese market are invited to contact our office.
Rep JAPAN is also actively engaged in animal export.Please contact our office for information
on overseas. Telephon, Fax, E-mail are on standby 24hours a day.

Importer of reptiles, amphibians,mammals etc.....
Wholesaler and general wholesaler to zoos, aquariums,laboratories, small wholesales and retailers.
Rep JAPAN Ltd
4-22-23 Shimokawahara Surugaku Shizuoka-Shi Shizuoka-Ken 421-0113 JAPAN
Phone : 81-54-256-1305 Fax : 81-54-256-1306 
info@rep-japan.co.jp